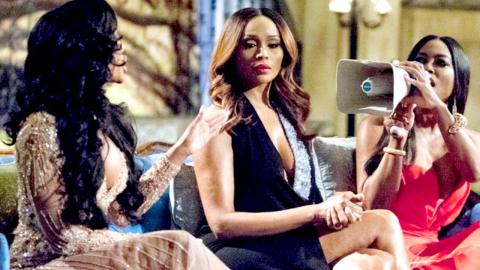 Top 10 Most Hated Real Housewives
Top 10 Most Hated Real Housewives
Ugh, she's on-screen again? Welcome to MsMojo and today we'll be counting down our picks for the Top 10 Most Hated Real Housewives.
For this list, we're looking at those Housewives that irk cast mates and audiences alike due to their behavior. We're only counting full-fledged Housewives, as in full-time cast members, which means you won't see any "friends" like the annoying Kim G. from "The Real Housewives of New Jersey."
#10: Porsha Williams

"The Real Housewives of Atlanta" (2008-)
As one of the newer, and younger, Housewives in the ATL, Porsha had the daunting task of going up against larger-than-life cast mates like NeNe and Phaedra. In her first two seasons, she didn't make much of an impact besides her very traditional marriage to football player, Kordell Stewart, and her lack of understanding about how the Underground Railroad worked. But after her divorce, a new Porsha came out: the twerkin' street fighter version. In her short time on the show, she's dragged Kenya by the hair at a reunion taping and she hit Cynthia while on they're on a booze cruise. And in the season eight reunion, it was revealed that she got into another brawl with her friend… we're starting to notice a pattern. Maybe reality TV isn't the best environment for her.
#9: Tamra Judge

"The Real Housewives of Orange County" (2006-)
Never afraid to speak her mind, Tamra Barney, now Tamra Judge, is certainly no shrinking violet. More often than not, Tamra's mouth gets her in trouble and crazy things come out of it, like when she called Alexis "Jesus jugs." Because of her mouth, Tamra's fought with almost every Housewife in her series of the Real Housewives franchise, including her supposed BFF, Vicki. We thought her low point came when she tossed a glass of wine in ex-Housewife, Jeana Keough's, face after she accused her of talking to the press about her divorce… but it wasn't. In season nine, Tamra spilled private secrets about Shannon's marriage. Not cool. Tamra's saved now, so here's hoping she changes her ways.
#8: Aviva Drescher

"The Real Housewives of New York City" (2008-)
Since she's the cousin of beloved comedienne, Fran Drescher, it seemed like the "New York" series might have been adding a funny, wise-cracker to the group in Season 5 – but that couldn't be further from who Aviva is. To the contrary, viewers found Aviva confrontational and catty, often picking fights where it wasn't necessary – for example, when she accused journalist and author Carole of using a ghostwriter. Aviva didn't seem to have boundaries when she fought, and that was especially clear when she called Sonja and Ramona "white trash" when they questioned her about bringing her husband on a girl's trip. Her dig was a low blow. It's no surprise she only lasted two seasons, but at least she made a memorable exit when she threw her prosthetic leg at the other women during a party.
#7: Kim Richards

"The Real Housewives of Beverly Hills" (2010-)
She may no longer be a Housewife, but Kim's antics are something we won't ever forget. Outed as an alcoholic by her sister Kyle in the season one limo fight, it was hard to watch Kim defend her erratic behavior and constant absence. And the times Kim was present, she was often mean to the other women, such as the time she stole Brandi's crutches or when she threatened to reveal some dark secret about Lisa Rinna's husband, Harry Hamlin. To be fair to Kim, struggling with an addiction is a hard thing to deal with, but she probably shouldn't have done it on television…
#6: Ramona Singer

"The Real Housewives of New York" (2008-)
Ramona runs NYC… or so she thinks. Known for her crazy eyes, Ramona is loud and opinionated, and often makes everything about her. She's also frequently overly emotional, crying on a whim and portraying herself as the victim. One of her crowning moments came when she threw a glass of alcohol at Kristen Taekman's face and wouldn't really apologize for it. Her arguments range from the petty to the ridiculous, as seen in her squabble with Bethenny over a stolen dress. And it doesn't seem like she's going anywhere anytime soon. She's the only New York cast member who's consistently been a full Housewife since season one. Looks like we'll have do deal with the Pinot Grigio, "Turtle Time" diva for a bit more time to come.
#5: Kenya Moore

"The Real Housewives of Atlanta" (2008-)
Kenya's definitely taken her role as villain on "The Real Housewives of Atlanta" to heart. Brought on in Season 5, Kenya has made it clear that she thinks she's the star of the show – and that she's willing to bring the drama to stay in the spotlight. She had a never-ending fight with Phaedra about her alleged flirtation with Apollo, and many believe that she instigated the epic reunion fight with Porsha after she spoke through a megaphone and waved her scepter around, which was pretty immature. She claims to be the bigger person, but she didn't prove it when she pulled out Kim Fields's chair from under in Season 8. Take her or leave her, Kenya will just keep twirlin' on her haters.
#4: NeNe Leakes

"The Real Housewives of Atlanta" (2008-)
Do you love to hate her or hate to love her? Perhaps the most divisive Housewife from any series, NeNe has set the example for a particular type of woman who manages the home: the shade-throwing, GIF worthy, Queen of Mean. In early seasons, Nene was known as the one who kept it real. But over time, as her funny quips made her popularity rise and she was cast on a few Ryan Murphy shows, she began to become full of herself. In her last season as a full Housewife, she was often sour about filming with the other girls and kept her interactions with them to a minimum. NeNe also let her friendship with Cynthia go, much like she did with Kim and Marlo in the past. Go back to the old NeNe, please.
#3: Vicki Gunvalson

"The Real Housewives of Orange County" (2006-)
As the "OG of the OC," Vicki won't let anyone forget that she's the queen bee of her franchise. She likes to be the gatekeeper of the group and has built a reputation on being mean to the new girl, particularly with Meghan King Edmonds in season 10. Vicki claims to love "whooping it up" and to hate drama, but she's always surrounded by controversy – whether it be the infamous Bunco party, or yelling at Lauri for spreading rumors about her sex life. Vicki's a particularly frustrating Housewife to watch because of her blind loyalty to Brooks, a man who everyone believed was faking cancer and someone who her own daughter couldn't stand. It's hard to feel sorry for the woman when she can't admit she's wrong.
#2: Brandi Glanville

"The Real Housewives of Beverly Hills" (2010-)
The series broke the mold with this mean girl. At first, Brandi seemed like a breath of fresh air: younger, wilder, and more relatable than her ultra-rich cast mates. But pretty soon, Brandi showed her true, ugly colors. She claimed she was just being real, but Brandi often told secrets she has no business repeating. Case in point, she blabbed Adrienne's secret of using a surrogate, which caused a whole heap of unnecessary drama. Brandi's also not afraid to get physical: she slapped Lisa Vanderpump out of nowhere and she pushed Kyle during an altercation. Viewers let out a collective sigh of relief when she didn't return as a Housewife in season 6, but we're still on the lookout for this one to come back.
Before we unveil our number one pick, here are a few honorable mentions:
Alexis Bellino

"The Real Housewives of Orange County" (2006-)
Michaele Salahi

"The Real Housewives of D.C." (2010)
Jill Zarin

"The Real Housewives of New York" (2008-)
Gretchen Rossi

"The Real Housewives of Orange County" (2006-)
#1: Danielle Staub

"The Real Housewives of New Jersey" (2009-)
She may have only been on the show for two seasons, but Danielle managed to make one hell of an impact during that time. One of the most grating Housewives, Danielle often didn't know when to mind her own business, namely when she inserted herself into Manzo family drama. On top of her meddling, Danielle seemed to have a shady past; while Teresa accused her of being engaged to 19 different men, she may have also been an escort/prostitute. She's proved she's not the trustworthiest as well, often backstabbing when it suited her. She liked to play the victim, which made it hard not to feel bad for her when Jaclyn's teenage daughter, Ashley, attacked her. However, but Danielle later pressed charges against the young girl, showing she could never be the bigger person.
Do you agree with our list? Which Housewife do you hate? For more can't miss Top 10s published daily, be sure to subscribe to MsMojo.