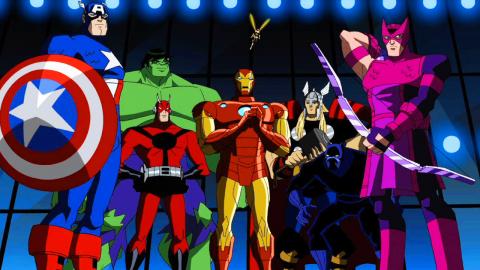 Top 10 Marvel TV Shows
Script written by Ian Astraquillo
Top 10 Marvel TV Shows
Who said the MCU is the only place to see Marvel characters come alive beautifully? Welcome to WatchMojo.com and today we're counting down our picks for the top 10 Marvel TV Shows.
For this list, we're looking at all the television series that have stemmed from the pages of Marvel comics and are ranking them based on their popularity, critical reception, and overall impact on pop culture.
#10: "Wolverine and the X-Men" (2009)
As the X-Men's fourth animated television adaptation, this incarnation added an interesting distinction by placing everyone's favorite yellow-spandex wearing superhero at center-stage. Having no connections to its predecessors, the show boldly begins with an explosion that results in the disappearance of the team's father figure and leader. This unexpected event causes the X-Men to disband, only to reunite under a new adamantium-clawed commander when the government declares a war against mutants. Though longtime fans and critics applauded it, "Wolverine and the X-Men" only lasted one season.
#9: "Agents of S.H.I.E.L.D." (2013-)
After the mega-success of "The Avengers," Disney execs scrambled back to the studio for television tie-ins to the Marvel Cinematic Universe. Centered on the titular agents led by the, spoiler-alert, thought-to-be-dead Agent Coulson, this breakthrough sci-fi-slash-superhero drama takes just a few steps back from the explosions and adrenaline-rushing visuals to get more intimate with characters. Bringing in the big-hitter organizations from all of Marvel, including the sinister Hydra and the Inhumans, the show has become a blockbuster hit for the small screen. While we tip our hats to the atomic age "Agent Carter," the win goes to SHIELD for its stronger action, cinematic direction, and balanced team-based dynamic.
#8: "Spider-Man and His Amazing Friends" (1981-83)
The only thing more amazing than a web-slinging superhero is a web-slinging superhero teamed with a generator of ice and a heroine manipulator offire. Forming the spider-friends, this cartoon saw Spider-Man and the X-Men's Iceman as well as newcomer, Firestar, join forces after meeting as classmates in the fictitious Empire State University. Aired alongside the Hulk's first animated series, the shows featured narration by none-other than the man himself, Stan Lee. Airing for three seasons, "Spider-Man and His Amazing Friends" featured a wide variety of familiar Marvel storylines, heroes, and even original villains created specifically for the show, making it one of Marvel's finest earlier endeavors for television.
#7: "The Incredible Hulk" (1978-82)
Starring Bill Bixby as Dr. Banner and Lou Ferrigno in green beast mode, this marked the first – and to this date the only – form of media where two separate actors portray the Hulk. Brilliantly written with themes of desperation, isolation, and, of course, emotions, the show ran for five seasons on CBS before being picked up by NBC for a film trilogy serving as the show's final acts. Keeping its pulse vital through syndicated runs on numerous networks, this adaptation may be the oldest live-action Marvel show on our list, but it remains a smashing classic to this day.
#6: "Spider-Man" (1967-70)
As one of two television shows that served as Marvel's initial endeavors in storytelling media outside comics, this was the show that helped launch Spider-Man and his archenemies to their present-day prominence and glory. Initially airing on ABC, the show's limited lifespan was due to escalating budget problems, forcing production to recycle footage and scrap narratives considered too expensive to animate. Nevertheless, the show was an instant hit that boosted comic sales and encouraged merchandise production for the hero. Also, let's not forget the cheesy, but classic, theme song that has since become as synonymous with Spidey as his suit.
#5: "Spider-Man: The Animated Series" (1994-98)
Yeah, yeah, we swear this is the last Spider-Man entry. Considered to be one of the best-animated shows of its time, this series breathed new life into Spidey for every superhero aficionado and/or child of the '90s. Reaching unexpected heights with ratings, the animated series was one of the earliest Marvel properties to spawn its own sub-franchise, with merchandise ranging from action-figures, to video games, to comics. Originally aired during the height of Fox Kids' Saturday morning lineup, the show is now unsurprisingly syndicated on Disney's children networks, drawing in nostalgic and newcomer fans of all ages.
#4: "Jessica Jones" (2015-)
As one of the two initial Netflix titles created for the MCU – and don't worry we'll get to the other one soon – Jessica Jones was the underdog name that soared to unanticipated peaks after its premiere. Starring Krysten Ritter as the eponymous super-strong and flying heroine turned private detective, this show's deviant take on the superhero genre throws darker elements of psychological-thriller and neo-noir into the mix. Receiving widespread acclaim for its acting, mature approach, and grim subjects, "Jessica Jones"' name may not be as prestigious as some of her Marvelpeers, but that's guaranteed to change soon thanks to this show.
#3: "The Avengers: Earth's Mightiest Heroes!" (2010-13)
Let's do a headcount. They've got a god of thunder, a legendary super-soldier, a tech-savvy billionaire, a skilled hunter-tracker, an omnipotent idealist with, shall we say, vision, a superwoman marvel, a couple of underestimated size-shifters, a master-marksman, a hyper intelligent acrobatic assassin and, oh yeah, a Hulk. Debuting two years prior to the release of their first live-action film, "Earth's Mightiest Heroes" were already kicking ass in the new Marvel Universe for television long before the epic confrontation with Loki and the Chitauri. Originally a micro-series, the show was picked up for full-length episodes and story arcs after a spike in popularity, and went on to spawn a new ongoing comic title and a replacement series.
#2: "X-Men: The Animated Series" (1992-97)
Perhaps the only thing more awesome than this classic series was its catchy and marvelous theme. Introducing the heroes to virtually every human being of the '90s, this animated series is considered the show that brought both the X-Men and Marvel to their first colossal peaks in pop-culture. Gorgeously drawn and written with epic narratives, the mutants – whether heroes or villains – were the forces to be reckoned with during their time. It was unquestionably Marvel's crowning jewel for television, surpassed only by one recent live-action hit, but it's still our top pick for the company's best animated show.
Before we flip the channel to our #1 pick, let's take a quick gander at some honorable mentions:

"Fantastic Four: The Animated Series" (1994-96)

"The Spectacular Spider-Man" (2008-09)

"X-Men: Evolution" (2000-03)

"Guardians of the Galaxy" (2015-)
#1: "Daredevil" (2015-)
Taking the top spot on our list is the initial Netflix original series that caught streamers and Marvel fans off-guard. Set in the same universe as the MCU, this new imagining of the attorney-by-day, crime-fighter-at-night superhero brings a whole new meaning to "justice is blind." Following the same dark tones and crime-drama approach as "Jessica Jones," Marvel's "Daredevil" sees the guardian of Hell's Kitchen truly living up to the devil in his name with adult-oriented narratives and bloodier confrontations. Featuring a star-studded cast, incredible sets and impressive effects, the show takes the same wonders found in Marvel's comics and films, and beautifully re-packages them for the small-screen.
Do you agree with our list? Which Marvel-based TV shows are you favorite? For more super Top 10s published every day, be sure to subscribe to WatchMojo.com.